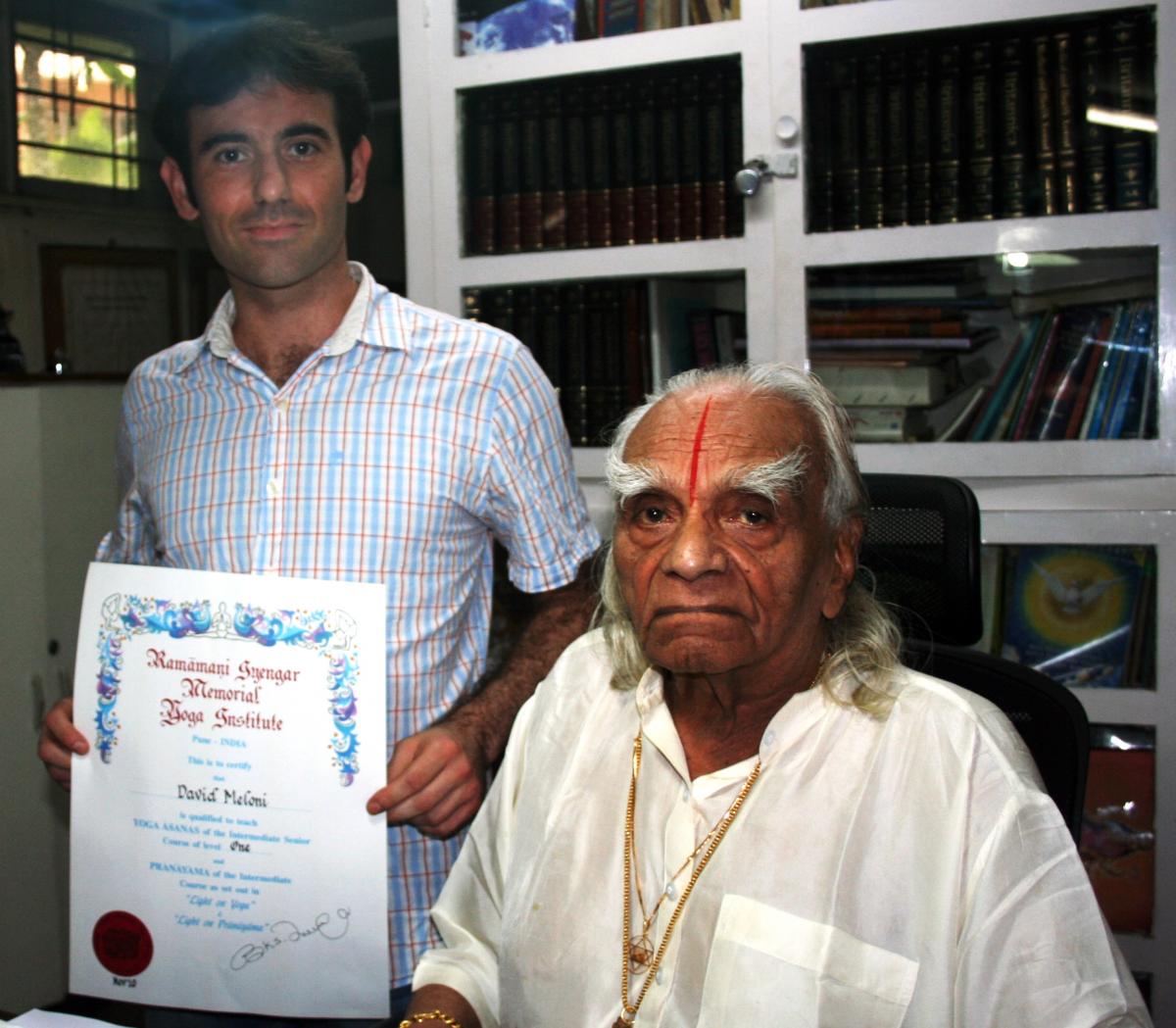 IYENGAR® YOGA
Bellur Krishnamachar Sundararaja Iyengar, was born in 1918 to a Bhrahmin family of modest means in Bellur, in the state of Karnataka (India).
At the age of sixteen he began practicing Hatha Yoga under his brother-in-law, T. Krishnamacharya in Mysore.
At nineteen, he was sent by his master to teach in Pune (in the state of Maharashtra) where he would stay for the rest of his life.
Because he was so young and had to teach after having practiced for only two years, he dedicated himself to studying the discipline for several hours per day in order to discover all its secrets;
he also studied anatomy, physiology and psychology, comparing them to Yoga.
Not only did his teaching continue with great success, but thanks to his knowledge, experience, sensitivity and understanding, he was able to help hundreds of people with diverse physical problems who came to him.
He is responsible for the spread of Hatha Yoga in the West through his demonstrations and teaching in various cities throughout the world and through the publication in several languages of his books, especially the most famous "Light on Yoga."
Compared to other schools of yoga, B.K.S. Iyengar's teaching distinguishes itself through the attention to minute detail and to the alignment of the various parts of the body in the postures as well as through the use of props which he invented in order to make yoga practice possible for all individuals, even for the most rigid and those least accustomed to physical exercise.
Another particularity of IYENGAR® YOGA is that the asanas are maintained for a prolonged period of time in order that they bring not only physical benefit but also physiological and psychological benefits as well.
Guruji B.K.S. Iyengar passed away in Pune on August 20th 2014, at the age of 95, continuing to be a source of inspiration to millions of people throughout the whole world.